Providing
Information technology

solutions for over 30 years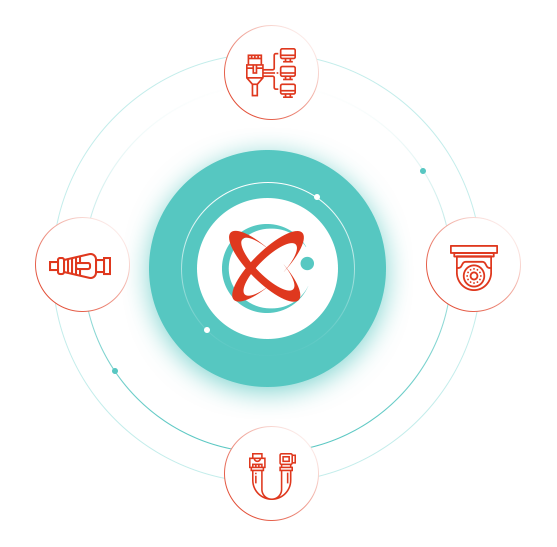 Since 1986, Tech Force has proven the ability to remain on the cutting edge of the Information Technology and Security Systems field with all its advances and has been able to provide our customers with the infrastructure necessary to stay up to speed.  Tech Force prides ourselves on our professional approach and is a Licensed, Certified and Insured contractor. We focus on building long time relationship with our customers by providing reliable, efficient and experienced service.  We open a clear line of open communication between all parties to make sure we address our customer's needs.  These are among some of the core values we have held for over 30 years and still bring to our projects today.  Therefore, Tech Force is regarded as one of the top contracting firms in the I.T. and Security System fields.
The Services We Specialize In
Data and voice cable installation

Fiber optics | High Speed Data
Security integration and camera systems
Reasons to choose Tech Force
If you're looking for a reliable, trustworthy, and efficient Telecommunications and Security Contracting Firm, Tech Force is the type of company for you!

Bring your Data, Voice, or WiFi up to date with the correct infrastructure to handle the speeds and bandwidth your company needs.   From installing fiber optic backbone to the final patch cord to your server, Tech Force is there every step of the way.  Every company large and small needs to provide the Information Technology for their company to survive in today's digital world.  We can help you achieve your goals for your Data and WiFi Access points as well as your Voice whether it be analog or IP.  
.

Tech Force takes a customer oriented approach to our projects. Every installation begins with an initial onsite evaluation. We take into account the technical conditions, end-user expectations, future expansion capabilities and budgetary considerations.
If your in search of support for the correct Network design to make sure your building the infrastructure to support your I.T. needs and wants, Tech Force has the experience and partnerships in the Industry to make sure you get it done the right way
.

Protecting your property from any type of breach requires the correct approach in implementing your security system.  Whether it be protection from outside threats or monitoring your employee's access, the proper access control system with the correct surveillance system working in tandem can protect you from liability in many shapes and forms.  In today's world protecting yourself is a necessity
.

Building a network or data center from the ground up, getting new space, moving your I.T. closet or has your I.T. closet become a disaster zone? Tech Force can help with all of these issues and has been hands on in resurrecting I.T. closets, moving companies from one location to another and building data centers all over the Tri-State area.
.
What Our Clients Are Saying
Need a Quote or Help With Your Design? Call Today
Have a question? Want to schedule a consultation? Fill out the form below or give us a call. We are looking forward to speaking with you.