Reliable, Trustworthy and Respected Professionals
What Separates Tech Force From The Rest…
Since 1986, Tech Force has proven the ability to remain on the cutting edge of the Information Technology and Security Systems field with all its advances and has been able to provide our customers with the infrastructure necessary to stay up to speed.  Tech Force prides ourself on our professional approach focusing on building long time relationship with our customers by being reliable, efficient and experienced.  We open a clear line of communication between all parties to make sure we address our customer's needs.  These are the among some of the values we have held for over 30 years and still bring to our projects today.  Tech Force is regarded as one of the top contracting firms in the I.T. Infrastructure and Security System fields on Long Island servicing all of New York City, New Jersey and Connecticut
The performance of a network infrastructure depends not only on the quality of its components but also on the quality of the cabling installation. 
Tech Force is a Licensed and Insured contractor. Each network infrastructure is installed and tested by certified quality engineers and technicians. We provide extensive testing and generate reports using high-end network test equipment.
Through extensive testing we can certify all data cabling installations to be in compliance with EIA/TIA-568 Standards for Commercial Building and Communications Cabling. As a result we unconditionally guarantee that all materials and workmanship are free from defects.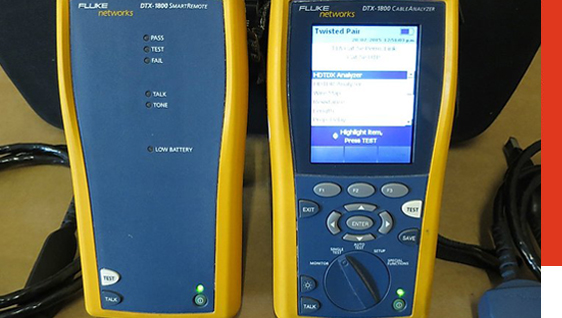 Tech Force complies with industry accepted standards to include:
Have a Question? Call Us Today!
If you're looking for a reliable, trustworthy, and efficient Telecommunications and Security Contracting Firm, Tech Force is the type of company for you. Although we are in the business of installing communications technology, we believe that communication between customer and contractor is essential in reaching the customers desired results. Need a new infrastructure for any of I.P. based network systems look no further than Tech Force.  Whether it's a small or a large commercial project, we want to take the load off your shoulders by providing a complete range of contracting services. This also includes security integration and camera systems. Just get in touch and let us know what you need, and we'll help you every step of the way.

Consistency and quality of our work are paramount to our success and longevity.  Our clients depend on us for their own success as well and we value these relationships we create through our common goals where trust is essential.
.

We pride ourselves in working in a well-organized manner with clear, concise communication which maximizes our production for our customer and also minimizes the amount of effort our client must exert to reach their desired functionality, budgetary goals and schedule for completion.

There is no substitute for experience.  Having been involved of thousands of projects over 34 years gives Tech Force the edge in knowledge and skill only acquired through time.  Through this time Tech Force has developed a process and culture that has been proven to be successful for decades.
.
Give Tech Force a call and meet your I.T. needs!